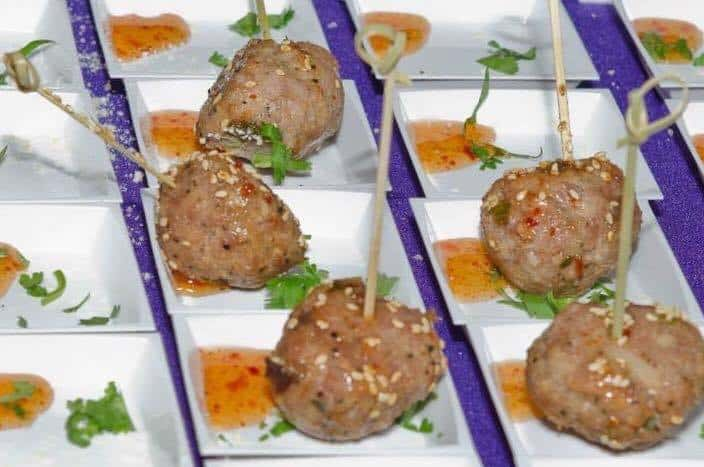 About Us
Tammy Pham and Sam Chung proudly present ASPARAGUS, a unique Asian fusion restaurant and lounge. This masterpiece is rooted in the authenticity and business experience of this well-established and highly respected restaurant family from Vietnam. ASPARAGUS was declared the 2008 Restaurant of the Year by the South Shore Convention & Visitors Authority, just 14 months after it opened its doors and has since been lauded by Hungry Hound Steve Dolinsky and featured on the Steve Harvey show. The restaurant has regularly been awarded regional awards for its distinctive food and libations.
ASPARAGUS distinguishes itself by offering a rare opportunity to experience fine dining in a serene, elegant, Zen-like environment while savoring dishes freshly fashioned from the cuisines of Thailand, Vietnam, and the Americas, all informed with classic French culinary artistry. Every item on the menu can be enjoyed with specially selected wines from Sam's extensive wine collection or paired with one of the many signature drinks, such as the popular La Passion Martini or her Asparagus Mojito.
The serene eatery accommodates 250+ guests. The Lemon Grass Room can be a private dining room for parties and meetings with up to 70 guests. The intimate Waterfall Room is a 16-person private dining room adjacent to the sumptuously appointed lounge which sports a beautiful baby grand piano in the corner. A variety of world-class musicians provide live entertainment on the first and third Saturday nights of each month in the lounge from 6:30 until 10:30 pm.
The venue's décor, like the menu, is an artful fusion of design elements embracing classical, modern, Asian, colonial, and French influences. Michael Smith and Valerie Rietveld of Triad Design Associates in Griffith, Indiana worked on every element of the restaurant during its major refurbishment. Their intention was to ensure that each guest felt welcomed, and embraced by an environment that complimented the menu.
The visual invitation begins when you enter the front foyer, which has a wall of crosscut bamboo of differing sizes and depths. The dining rooms' color scheme echoes the colors of the asparagus, rich creamy yellows, and greens, with hints of purple, augmented by brocade curtains, bamboo, and dried grass. The lounge is richly appointed with ebony woods, sumptuous dark gold patterned wallpaper, imported light fixtures, and art, with a show-stopping wall of a giant bamboo behind the bar. Throughout the restaurant diners are delighted by a rich assortment of unique Asian art acquired by the owners on their travels; a beautiful collection of paintings, sculptures, and antique artifacts.